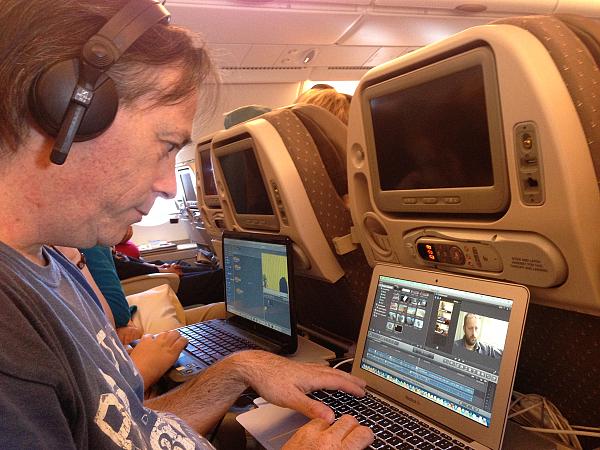 As I flew I played a game in my mind that as I'm flying I'm earning money, paying the cost of my airfare. By the time I'd land perhaps the whole plane ticket would be covered.
When I purchased the MacBook Air, a year ago, I really wasn't sure whether or not it would be up to the task of editing. I took a gamble and the gamble has paid off.
I asked around and most of those I asked – these are editors I respect – seemed to think that an 11 inch MacBook Air would be too small to work with Final Cut Pro X. Many agreed it would likely have the power, but would you really want to edit on one
My answer is yes! I love working on miniature devices. If I can edit on something that weighs almost nothing and is smaller than a magazine, then great. So long as I can see the images and hear the audio thats all I need.
I do realize that editing on such a small device isn't going to be for everyone, however, many a time, I find the size and convenience of the 11 inch MacBook Air ideal. Especially when travelling with several cameras and other equipment. To squeeze an 11 inch MacBook Air into the bag is not difficult.
Most of the work I've done has been straight cuts, audio mixing, colour correction, some compositing work. I'm impressed with the results and performance while editing. And I have cut some reasonably complex pieces with the 11 inch MacBook Air. Just for the record the most recent piece I edited was 15 minutes in duration for the final edit, had around 3 – 4 hours of content to work with, was shot
XDCAM
EX, and featured quite a lot of multi camera work with 2 cameras used throughout the filming, and 3 cameras for the main interview.
Aside from taking longer to render and output finished movies, the 11 inch MacBook Air performs admirably. I haven't experienced any major bottlenecks or slowdowns in performance. Even working Multicam was without trouble. This little machine is certainly capable and up to the job.
I'd suggest editing from a Thunderbolt drive or even the internal
SSD
for speed. This same applies to the other Macs I edit with. This is not exclusive to the MacBook air.
More often than not I bring a 15 inch MacBook Pro as this is my main machine. The 11 inch comes along as the backup machine. However, when I want to be really portable and light on luggage, the 11 inch MacBook Air is the right tool for the job.
Like any machine, if the MacBook Air doesn't have the power you need, and you need to give Final Cut Pro X a boost, then transcode the media you are working with to Proxy and you will have no problems.
Even without Proxy I've found the MB Air to be mighty capable. If you like small portable devices and don't mind editing on something less than the size of a couple of thin paperback books, the 11 inch MacBook Air is a winner.
Test machine and Software
11 inch MacBook Air
2 GHz Intel Core i7
Ram 8GB
Internal drive 256GB
SSD
Mac
OSX
10.9.4
Final Cut Pro X 10.1.2